More than Clean
It means more than ever today. From cleaning and disinfecting programs, to facility services, FBG is up to the challenge. Since 1960, FBG has been an industry leader in providing services that ensure clean, safe and healthy environments for our clients – in industries from commercial office to education, manufacturing, utilities and healthcare. So, whether you need a customized program or an immediate response to an incident or outbreak, you can rely on FBG for solutions that are more than clean.
Grow with FBG.
Join the FBG team for full- or part-time hours, competitive wages and benefits — like weekly pay for hourly employees, insurance, paid time off, employee ownership and more. Apply now.
Clean, like your health depends on it.
A clean environment is a safe, healthy environment. FBG puts all the right elements in place to achieve the highest levels of clean. Cleaning services.
Everything is possible with FBG Facility Services.
FBG provides virtually any service – inside and out – to enhance your image and protect your investment. Facility services.
The Company you trust – since 1960
At FBG, we are all business when it comes to the commercial cleaning and facility services we offer. But, there's also a human side – from our beloved founder, Wayne Simmonds, to the thousands of employee owners who are committed to the work they do and who make our company feel like an extended family. So, as we celebrate more than 60 years of service, we extend our appreciation to all the clients and employees who have made this milestone possible. Shine On!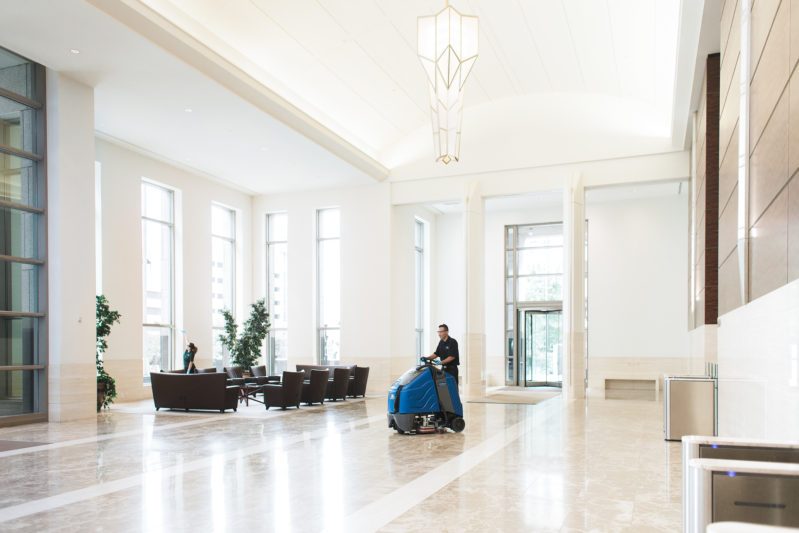 Work with Us.
Whether you're looking for extra cash or a career, talk to FBG Facility Services.
Ya sea que esté buscando dinero extra o una carrera, hable a FBG Facility Services.
The transition from in-house service to outsourcing was seamless. Without the FBG leadership team, the process would not have gone so well. Their enthusiasm carries over to their people and makes them want to do a good job. The GVU family culture is a good fit for the FBG family culture. They get things done like you need them done.
Kim Butler Director of Buildings and Grounds Grand View University Des Moines, IA
Since 1992, First National Bank of Omaha has enjoyed an excellent business relationship with FBG.  They not only increased the quality of our cleaning service, but they also provided substantial cost savings.  Recognizing the importance of our culture, FBG's services have been both flexible to our business needs and professionally managed at all levels.
Brenda Dooley FMA, RPA, President, First National Buildings, Inc. First National Bank Omaha, NE
Our janitors do a lot for us … they play an essential role in making our school safe.
Joel Pedersen Superintendent Cardinal Community School District Eldon, IA