ByoPlanet® Saves the Day
The worst of the flu season is behind us, but a secondary outbreak is expected this Spring. Public health officials have said this flu season is likely to continue through April. According to the latest reports from the CDC, the overall proportion of influenza A is declining, but the proportion of influenza B is increasing.
What can be done when your facility gets hit by a nasty bug? FBG offers a disinfection process that has been proven to help stop the spread of viruses, including norovirus.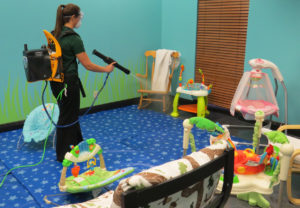 The ByoPlanet® system uses an induction-charged electrostatic sprayer that atomizes a disinfectant upon surfaces resulting in full and even coverage without the threat of lingering aerosols. The no-touch applicator eliminates cross-contamination and is safe to use on sensitive equipment. The chemical is negatively charged by the sprayer and is literally driven into the substrates. The negatively charged droplets essentially compete for space, do not overlap, enabling the disinfectant to penetrate 100% of all exposed and hidden surface areas.
It also helps eliminate odors at their source, control pests and even enhances existing mold remediation techniques in a faster, more cost-effective way. This evolution in electrostatics allows us to provide our customers with a healthier environment.
David Haller, Air Methods Communications, Vice President AirCom/DPL in Omaha, said, "We used ByoPlanet last year. This year, we again experienced many cases of the flu and requested ByoPlanet for the outbreak. The feedback is that the overall sickness rate has seemed to decrease since the treatment. We have been very happy with the results."
n Adrian May with RT Logic in Colorado Springs, said, "We had the ByoPlanet system shown to us in our fitness center room, and it seemed like a good way to sanitize the equipment. I would consider using it again next year."
ByoPlanet also helps clients improve the surface and air quality in their facilities. The product we use in the system is Diversey's most popular disinfectant Oxivir, a hospital grade disinfectant formulated with patented hydrogen peroxide technology that meets OSHA's bloodborne pathogen standards for HBV and HIV. Oxivir is also a UL Ecologo Certified disinfectant.Electrostatic spraying has been used all over the world and has been field tested in many highly populated environments such as cruise lines, airlines, long term care homes and schools.
ByoPlanet was successful at eradicating a norovirus outbreak on one of world's largest luxury cruise ships and was also used on the ground in Haiti after their 2010 devastating earthquake to help mitigate and stop the spread of infectious diseases on the ground. If the process works in these environments, you can be assured it will work in yours. 
Interested in learning more? Contact Mike Gidden at mgidden@fbgservices.com.