FBG Achieves CIMS-Green Building Recertification with Honors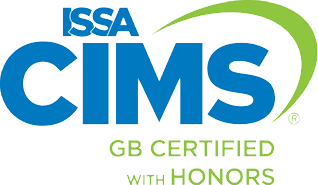 FBG Service Corporation has successfully completed recertification to the worldwide cleaning industry association ISSA's Cleaning Industry Management Standard (CIMS), and has achieved CIMS-Green Building (CIMS-GB) designation with Honors.
To earn CIMS recertification, FBG underwent a comprehensive assessment by an accredited CIMS assessor. During the assessment, FBG Service Corporation demonstrated its compliance with the five core principles of the standard: quality systems; service delivery; human resources; health, safety, and environmental stewardship; and management commitment.
"This certification reflects our commitment to clean for the health and safety of those who work in the buildings we serve. We couldn't be more proud of our teams that have worked diligently to achieve this certification for FBG and to be able to provide the industry's highest quality standards to our customers," says Terri Gogetap, President and CEO of FBG Service Corporation.
Compliance with the CIMS-GB criteria illustrates FBG Service Corporation's commitment to consistently and professionally delivering green and sustainable cleaning programs. The CIMS-GB designation helps FBG as a building services contractor to provide its cleaning and facilities management customers with precisely what they need to secure points under the U.S. Green Building Council's LEED for Existing Buildings: Operations and Maintenance―or LEED EB: O&M―Green Building Rating System, while greening operations overall.
For more information about CIMS-GB certification, visit issa.com/standard. Contact us to learn more about getting started with a green cleaning program in your facility.