Happy 45th Anniversary to Jim Simmonds
All of us at FBG wish a happy 45th Anniversary to FBG Vice President, Jim Simmonds.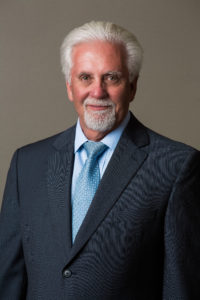 Jim started working for his older brother, FBG founder Wayne Simmonds, in high school. Jim was a car hop at a famous Omaha Italian restaurant, Mr. C's in 1968, the year Wayne bought Floor Brite, and Wayne asked Jim to join the team. To make it more fun, Jim invited his good friend, FBG's Colorado District Director, Randy Zornes, to join the business, too. Working together was more enjoyable than the job itself–but they never told Wayne that! 
Jim remembers Wayne saying, "You only need to work half days, just let me know which 12 hours you plan to work!" 
After high school, Jim joined the Navy under the buddy program, but his buddy (Randy) didn't show up! They still laugh about that today.
While in the Navy, Jim worked in the Nuclear Power program. Jim returned from active duty in 1975 and resumed his career at Floor Brite. So naturally, when Floor Brite landed a contract with OPPD's Fort Calhoun Nuclear Power Plant, Jim became the Supervisor. This, ironically, was after he had turned down a job with OPPD to work on power plants. As the company grew, Jim was there for it all.
Floor Brite had originally focused on commercial janitorial and floor care services, but Wayne began adding other building services. Floor Brite's Special Services Division soon became the solution for all kinds of requests. We responded to just about anything, Jim recalls, including fire and flood clean ups and the occasional crime scene. We also had a high-rise window cleaning division and concrete coatings division, each with its own cast of characters. In the late 70's, Wayne would add security guard services to our menu of offerings, and we became FloorBrite Guardsman. Ten years later, this business would be sold to help fuel our company's growth through acquisition.
Jim's career would take him from a nightly cleaning position to managing the largest District Office in the company and has been our Vice President since 2000. He's our go-to for anything operational.
About this anniversary, Jim said, "I am very proud to have been with this great company all these years. Every day still brings new challenges. I appreciate that Wayne saw the value of making FBG a company of employee owners!"
Happy Anniversary, Jim!