Summer Savings: Road Trip Tips
Summertime is a welcome break from the hustle and bustle of the school year. Use these helpful hints when hitting the open road with your family and friends and avoid the common pitfalls of a great road trip: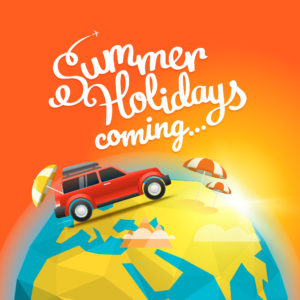 RISE & SHINE & LEAVE:

Hit the road early to avoid traffic as well as the summer heat.
PORT-A-POTTY: Pack a little kid porta-potty with plastic bags. It's a great solution should you find yourself in a remote area when nature calls. It also works well when camping and little ones need to go in the middle of the night.
NIBBLES: Try to avoid fast food when on the road. It's expensive and not a healthy choice. Stock a small box with bagels, peanut butter, pretzels, apples, cherries and trail mix.
WHAT TO WEAR: Travel light = Travel right. Simplicity is key. You can always hit a laundromat when needed.
DIRECTIONS: Yes, your phone offers a multitude of solutions. Even so, a paper map is a good idea to supplement your electronics. Phone batteries die and WIFI and cell service can be sketchy. Paper maps give you perspective.
Note: When your teen gives you the I-don't-use paper-maps eye roll, ask them to fold the map. Hours of activity for them and hours of fun for you.