Mailbag Monday — Week of August 24th, 2020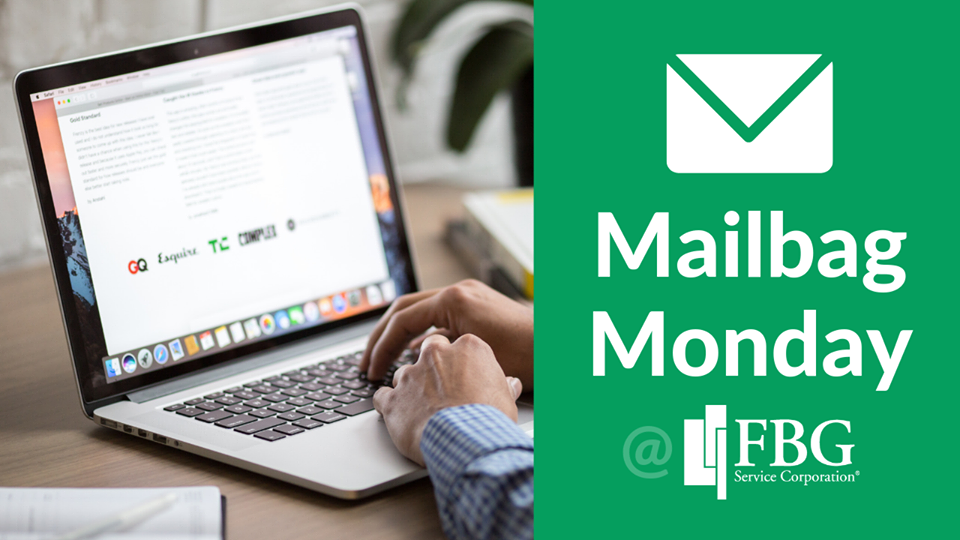 From: Pepe Alicea, Sr. Manager, Facilities, Space & Airborne Systems/L3Harris Technologies, Colorado Springs, CO
To: Terri Gogetap, FBG President & CEO
On behalf of L3Harris Technologies, I want to express my appreciation to the FBG Colorado Springs team. Specifically, we appreciate Erica Mogensen and her entire team for their superior and relentless response to the COVID-19 crisis.
This unprecedented outbreak certainly places a major stress point on service providers. L3Harris is in the essential mission category, supporting key federal government agencies. Therefore, we must maintain our business operations and provide a safe environment for our employees, partners, and customers. The professionalism, positive attitude, prompt and effective engagement, and the many hours of service demonstrated by Erica and her team are impressive and much appreciated.
While the threat of the COVID-19 virus has not passed, L3Harris' multiple sites in Colorado Springs remain open and operational—in great part because of FBG's effective disinfection interventions. We still have some time ahead of us to ride out this crisis and are thankful to have FBG as our arsenal to combat this virus threat.
Please convey our appreciation to the team for their contributions. Thank you for making a difference!
—
From: Terri
To: Pepe
Thank you so much for your kind and thoughtful words. I couldn't be prouder of Erica, her team and our staff in Colorado! It is so rewarding when we hear how we have made a difference in our customer's business. It's what FBG employees strive to do every day, now more than ever. These are indeed unprecedented times for all of us and we recognize the higher purpose we have to protect our customers. Know that your FBG team will continue to be right beside you, every step of the way. Thank you again for taking the time to share your appreciation. Be safe and stay healthy!