Floor Cleaning Takes a Step Up with i-Mop
Over 70% of floors are still cleaned with a mop and bucket, and in some cases, this is appropriate. In healthcare, however, we need to consider the health and safety of each patient and the importance of sanitizing their rooms. In addition, traditional cleaning methods are labor intensive and pose slip & fall risks due to wet floors.
Meet the i-Mop! This new design combines the maneuverability of a traditional mop with the performance of a traditional scrubber. It also: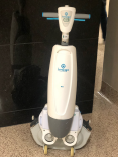 Reduces labor costs
Reduces water and chemical consumption
Delivers extremely clean floors by mechanical agitation
Helps floors dry quickly through immediate water and soil recovery
The i-Mop was designed to work in tight spaces and underneath obstacle with 360-degree maneuverability, and be light enough for the user to pick up and carry. In addition, the i-Mop uses intuitive controls for the trained operator.
How does it work?
Counter-rotation of twin brushes moves the cleaning solution towards – not away from – center, and concentrically stepped bristles trap fluid and prevent splashing. Squeegees are placed at the rear of the machine creating pressure against uneven floor surfaces for better fluid capture. Finally, the squeegee and vacuum immediately retrieves fluid before it fans out to sides.
Cedar Rapids District Director Tom Montgomery uses the iMop in many facilities, not just in healthcare. When asked why he said, "They do a thorough job, are light weight and great for small spaces. I like that it cleans and sanitizes the floor and scrubs well but not aggressively. It's a top of the line micro-scrubber."