L&M School District: Where Character Rules!
The Louisa Muscatine School District composed of 1,100 students is a campus housed on a harmonious blend of farmland, industry, business and growing residential areas.
FBG began custodial services at the school in July of this year – just in time to help them get ready for the new school year.
Superintendent Mike Van Sickle said, "We do so much more than provide education for kids now. From counseling to community interaction, to activities, to food and clothing pantries, schools have evolved. It's not just reading, writing and arithmetic anymore. When you have all those things on your plate, it helps when there's a system for cleaning in place that doesn't require your time and attention."
He continues, "We appreciate that along with cleaning, FBG helps with community events. For example, our football team has a weekly meeting called "Falcon Backers"—these are adult volunteers who meet with small groups of students and have conversations around the Character Rules! principles (learn more about his program on Page 8). In fact, one of our custodians, David Schneider, is a Backer and comes in on his own time. Van Sickle also takes part as a Backer. Engaging with students this way is rewarding for all involved.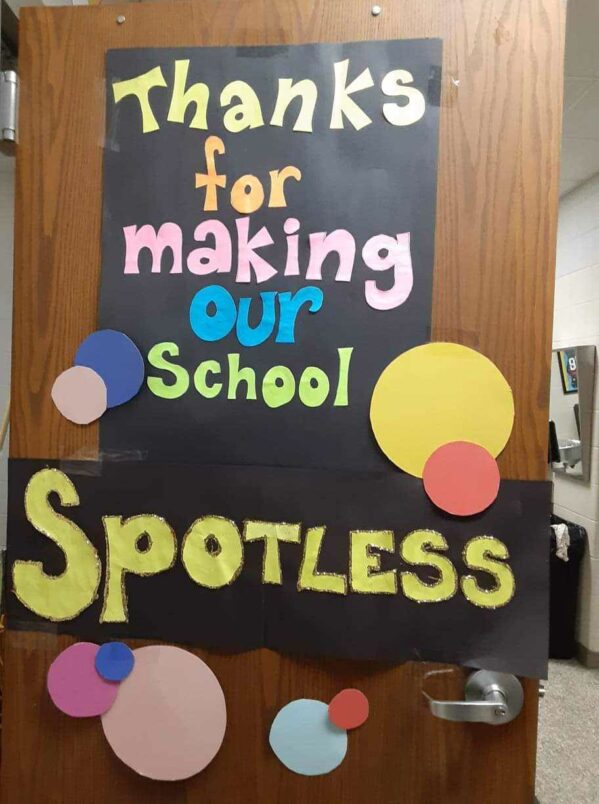 Quad Cities District Director, Scott Hess, said, "Lacey and her team are committed to the health and safety of every student, staff member and visitor. They are a cohesive group that strives for the best. I couldn't be prouder of them all."
Van Sickle has been impressed with the constant communication and monthly face-to-face meetings. He said, "I truly appreciate that FBG communicates issues right away. The praises are immediate, and the handling of problems is also immediate. I feel that management is always available."
Site Supervisor Lacey Crabtree was happily surprised when she opened the janitorial closet door to find this thoughtful greeting!
His wife, Kim, is the elementary school counselor. Together, they are committed to improving the lives of their students and are an essential part of the fabric of the school. FBG is proud to be part of that fabric as well. Go Falcons!
"The school motto, as of this year, is: Where falcons soar, students learn, school rocks and character rules. And we believe FBG stands by those same principles." -Superintendent Mike Van Sickle