Making the Grade at Grand View
Grand View University is a private liberal arts university located in Des Moines, Iowa. Founded in 1896, the university currently enrolls approximately 2,000 students who partake in more than 40 undergraduate majors and four master's degree programs. There are approximately 13 buildings that cover 500,000 square feet. 
In the competitive higher education market, first impressions are important, and key to luring prospective students to attend. When the time came to examine facility care options, Grand View Director of Buildings and Grounds Kim Butler knew the university needed a strong partner. 
After 30 years with their former janitorial company, Butler began the RFP process. "When we interviewed Market Manager Mark Gunhus and Des Moines District Director Pat Carroll, we became interested in their approach to our campus. When we learned the price was right, we decided to make the switch." 
It was going to be a challenge for FBG. The athletes were scheduled to move-in on August 5 (2019), and FBG only started the contract in mid-July. Butler stated, "Since the account was awarded just prior to the start of the Fall semester, there was a lot of work that had to be done to prepare the summer housing for the upcoming school year. We had two weeks to get everything ready and FBG got right to work. Fortunately for all, they had the right people in charge so we didn't have a lot of hiccups." 
When the account was awarded, creating a great team to service the account was a key priority. The new team consists of previous staff members, experienced FBG team members and new hires who perform janitorial, hard floors and carpet care, including Mondo flooring in the gym. 
And what a team it is. Butler said, "The transition with Pat, Mark and the Site Supervisor was seamless. Without them, the process would not have gone so well. The enthusiasm of FBG's leadership carries over to their people and makes them want to do a good job. The GVU family culture is a good fit for the FBG family culture. They get things done like you need them done." 
Gunhus said, "During our presentation, we pointed out that we operate like a family. This is more than a job to us. This is family. Not just our people, but their people, too. This account gels very well and we love it." 
Grand View was the first account in the Des Moines district to add three Disinfecting Specialists to their staff, all working various shifts, keeping GVU safe and sanitized. Chris Lee, VP of Finance, said "Mark Gunhus and team have been critical in our COVID planning and daily operations. I am grateful for their diligence and customer service; we couldn't get through this without the FBG Team!"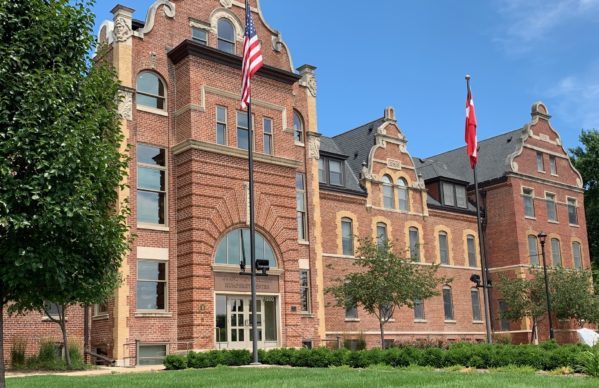 In this photo is The Humphrey Center built in 1986. The Danish Renaissance elements in the building's design was important to the Danish immigrants to the United States who founded the college. On the second floor is a meeting room with a Danish ship. Ships are prominent in Danish buildings and they always face North.