Moving Up
Kelly Findley, Operations Manager, Quad Cities District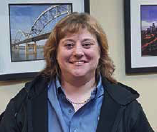 Kelly Findley has only been with us since December of 2016 and she's already made quite an impact. Hired as an Operations Supervisor, she is now the Operations Manager. She quickly learned the ropes by working with various customers and FBG managers at all levels of the district. At one point, she performed a strip and wax on the operating floor at Heartland Clinic. The quality was so good, she was asked to come back and do the same to the patient room floors. To add to her learning curve, she also volunteers for the district Safety Committee.
Prior to joining the FBG family, she spent over 25 years with 7-Eleven as their corporate training manager. She said, "I'm in the process of learning the more intricate parts of this business but I've got the management part down pat. I absolutely love training people and seeing how they learn. Thinking outside of the box comes naturally to me."
Her father was in the service which explains her dual citizenship between the USA and Turkey. She was born in Ankara and hopes to go back one day.
"I've been so blessed and am so happy to be part of this group. I felt at home from the beginning and I'm learning every day. I'm extremely excited about where our future is going and believe with the right team, the sky's the limit. Our team hasn't even touched the surface."
We're lucky to have you, Kelly. Thank you for joining the FBG family!