Omaha – Lincoln District Value Awards 2018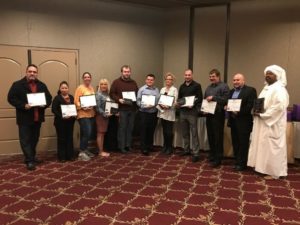 Our annual Employee Stock Ownership celebrations honor our employees and give us the opportunity to express our deepest thanks. We're so pleased to recognize the following Value Award winners from our Omaha – Lincoln office for their outstanding contributions over the past year.
-Terri Gogetap, President FBG Service Corporation
Quality
Dawn Schubach
Dawn was hired in June of 2016 and was a key team member of starting a successful Day Cleaning Program at Lincoln Electric Building. Dawn's pleasant disposition and hard work has always been noticed by our management team and most importantly, the customer. Her commitment and passion to do the best job she can do has resulted in great praise and recognition. We thank you, Dawn, for your hard work and dedication.
Joan Quinata
Joan was hired in August, 2013 and came to us with experience galore. Joanie works very hard and is well respected by all of her team members as she trains and inspects their work. She always has a smile on her face and encourages others. We thank you, Joanie, for the quality that you bring our customer and the pride you build in your Lincoln team! 
Saw Htoo
Saw was hired in 2015 as a Cleaning Specialist at First National Tower. Over the years, he has assisted our Site Supervisor in many tasks. He helps train new team members and has learned floor tech skills. Saw brings a positive attitude, a smile and his dedication to his job. He is consistently building pride in his work no matter what he is asked to do. We thank you, Saw, for your dedication and constant smile. 
Stability and Growth
Aziz Alisherzoda
Aziz is the Operations Manager for the Commercial and Manufacturing area servicing Western Iowa and Eastern Nebraska. Aziz moved from being the Woodmen Tower Program Manager to his current position as Operations Manager. Since adding 27 sites to the territory this year, Aziz has worked tirelessly to hire, train and manage the team to bring stability to the account. Thank you, Aziz, for all your hard work in bringing stability and growth to your accounts.
Gina White
Gina has been with FBG since 2014 as an Area Supervisor for the Manufacturing and Commercial area. In 2016 Gina became the Program Supervisor for Valmont Industries in Valley. As our Leader at Valmont, Gina has stabilized the program and continues to find ways to improve quality and performance. Our client appreciates Gina and what she does for her team and the facility there. Thank you, Gina, for all your hard work and for building pride in your team!
Chris Mefford
Chris is the Omaha District Supply/Warehouse Specialist and has been actively involved in changing our supply vendor this past year. Chris took a major role in this transition; he was instrumental in comparing pricing, ordering changes and managing our usage levels while finding ways to save and increase profit. His diligence in the transition to a new supplier and watchful eye on costs have had a positive effect on our bottom line. Thank you, Chris, for your diligence and creativity.
Hector Peralta
Stability and growth are the keys to the future of FBG. Halfway into fiscal 2018, the Omaha District has already exceeded their growth goal for 2018. Hector, his team and their contributions have helped Omaha exceed the new sales goals, and have done so for the past three consecutive years. Thank you, Hector, for playing a critical role in this accomplishment!
Elias Ramirez
Eli and his team have also played a critical role in helping the Omaha District achieve a three-peat in exceeding their sales goals. Eli does an amazing job of keeping his teams motivated and on task. Thank you, Eli, for your dedication and superior performance!
Ethics and Integrity
Bret Henning
Bret is a true team player with a strong work ethic. He has assisted with many new account start-ups for Lincoln and other accounts not under his realm of responsibility. In a nutshell, Bret helps in whatever capacity is needed— whether helping as a floater, project worker or a supervisor. Bret, you are always doing what is right for the customer and FBG. Thanks Bret! 
Pamelee Veldhuizen
With FBG since 2015, Pamelee was promoted to Supervisor this past fall. She has been an enormous catalyst in stabilizing all the facilities for which she is responsible. Pamalee has a great work ethic, a positive attitude and always willing to go above and beyond to do what is best for the customer. Thank you, Pamalee, for all your hard work, dedication and outstanding performance.
Angelia Lopez
Angelia was hired in 2011 and has worked at First National Tower ever since. She is currently the Evening Site Supervisor. She handles daily training of new team members, organizes the Cleaning Specialists' work load and inspects areas nightly. Angelia is an enormous help to the Program Manager in making sure all daily work is completed. Angelia, thank you for your great work ethic, your positive attitude and for the pride you build in your team!
People Development and Empowerment
Jesse Diaz
Jesse started with FBG in 2016 as an Area Supervisor. He is now our Program Manager for Iowa Western Community College. Jesse has recruited many of our current employees. His team is very reliable, dedicated and loyal to Jesse. He works side by side with his employees and holds them accountable. He has helped increase productivity and has developed a strong team at IWCC. Thank you, Jesse, for your diligent efforts in developing new leaders at FBG. 
Maria Garfias
Maria was hired in 2011 and has had an exciting year with FBG. She was our Site Supervisor at UPRR Harriman and has now moved to Site Supervisor at OPPD Energy Plaza. She has trained our new employees and helped to develop new leaders at both accounts. During her tenure with us she has always been respected by her team and admired by our customer. Thank you, Maria, for empowering others to grow!