Quad Cities 2018 Value Awards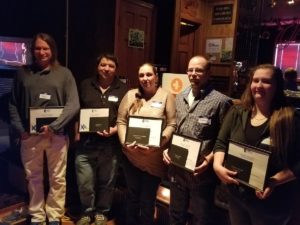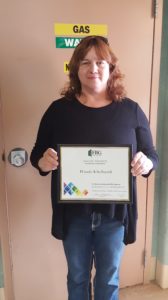 Our annual Employee Stock Ownership celebrations honor our employees and give us the opportunity to express our deepest thanks. We're so pleased to recognize the following Value Award winners from our Quad Cities District for their outstanding contributions over the past year.

-Terri Gogetap, President FBG Service Corporation
Quality
Kristine Jordan
Kristine is one of the hardest working Cleaning Specialists in our district. Kristine consistently does an outstanding job in a fast-paced work environment. She covers the whole of Clinton, IA and Cordova, IL., and our Quality scores for those accounts have been exceptional due to her amazing work. Thank you, Kristine, for all you do!
Alyson Findley
Alyson has been a Day Porter at Riverdale Elementary since July 2017. She services the most populated school in the district, as well as one of the largest. Alyson does an outstanding job day in day and out in a fast-paced work environment. She has received cards, notes and verbal compliments from many students, staff and administration. Our scores at Riverdale have been exceptional, in part due to her dedication and pride in her work. Thanks for all the hard work, Alyson!
Stability and Growth
The Mediaopolis Team: Ray Amos, Lindsey Bean Jordan, Mark Trusty, Scott Jordan and Cade Borrison
We've had the pleasure of servicing Mediapolis School District for more than 17 years. This team has consistently and effectively kept the school district looking great. Visiting school superintendents are always commenting on how clean and well maintained the schools are. As a result, Greg Ray, Superintendent of Schools, always provides a terrific reference allowing us to grow and develop several other education accounts. We are fortunate to have this wonderful team as part of the FBG family.
Ethics and Integrity
Wanda Schellsmidt
Wanda has an amazing work ethic and is incredibly loyal. She, without a doubt, operates with integrity. Entering her 16th year of servicing Waukon, Postville, West Union and Decorah CTL sites, we have never once received a complaint about her work. She always gets the job done right. Wanda has exemplified FBG at our core: We do what we say. We say what we do. Thank you, Wanda, for demonstrating our core values!
People Development and Empowerment
Bruce Abington
In his brief time with FBG, Bruce has earned the respect of colleagues, Cleaning Specialists, Supervisors and customers alike. Members of his team have said on many occasions that Bruce is a great supervisor. He takes the time to train and answer questions in an easy going, non-threatening manner. He goes the extra mile to ensure people understand the job, and its requirements. We are proud to have you on our team, Bruce!