Putting Stock in Our People
25 Years of Employee Ownership
It's not just a matter of loving what you do, the people you work with and the clients you serve. At FBG Service Corporation, success comes from the belief that "ownership is an important motivator; when you have ownership in the company, you have a vested interest in its success," said FBG founder, Wayne Simmonds, when he first offered shares to a handful of key employees in 1968.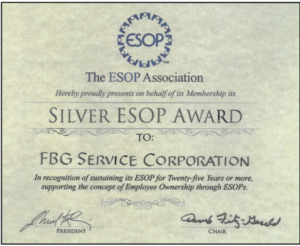 In 1993, FBG made history by making employees the owners of the company they worked for – becoming one of the first in the industry and one of a select few companies in America to provide an Employee Stock Ownership Plan (ESOP). The first ESOP certificates were issued to 390 employee-owners in April 1994.
---
"Now that I'm retiring, it's nice to have a little nest egg."
— Recent FBG Retiree
---
In 2006, FBG reached another milestone – 100% employee ownership. Every year since, the company has been recognized as one of the Top 100 U.S. employee-owned companies by The National Center for Employee Ownership. While employee ownership provides retirement, death and disability benefits to participating employees, it does something more.
"It demonstrates a commitment on the part of the company to its people, to the work we do, and to the customers we serve," said Terri Gogetap, president of FBG and daughter of Wayne Simmonds. "It's a stake that a typical  shareholder doesn't necessarily have and it enables us to deliver a customer experience that is second to none."
The proof? FBG has grown to include more than 1,300 employees, serving customers from coast to coast. And like our people, our clients tend to stay with us for a very long time. It's a result, in part, of FBG's culture of doing the right things for the right reasons.
"We're so proud of our employees who exemplify FBG's values and work hard to deliver their very best, everyday" Gogetap said.
---
FBG's ESOP Is an IRS-approved retirement plan designed to provide qualified employees with retirement, death and disability benefits. There is no cost to our employees, the plan is 100% funded by FBG. Employees receive an allocation of shares each year based on the company's annual contribution and the percentage of covered payroll their earnings represent. When sharing in the results of a company's success, owners are driven to make a positive difference every day.