Still Leading the Way – FBG Facility Services Information Technology Team
They say necessity is the mother of invention. That was precisely the case when the FBG information technology department was created in the mid-1990s. FBG had just acquired a contract to provide integrated facility services for a large telecommunications company across a 14-state territory. It was immediately apparent that the work order process previously kept on a yellow pad of paper would require an upgrade.
A small group of process improvement experts set about developing the system that continues to be used today to support many of our service delivery programs. The system is called MyPortfolio, and it's grown to manage our work order and accounting processes.
In 2018, a change of guard brought in Brian Galloway as the Director of Information Technology to build a scalable and flexible operational platform that would allow for FBG's strategic growth.
Taking a well-researched and thoughtful approach to all FBG's systems, Brian was recently promoted to Vice President of IT. As a team, they are making great progress and a few of their outstanding accomplishments include:
Standardizing IT systems including system architecture redesign, software consolidation and optimization, and streamlining end-user workstation configuration and management
Updating telecommunications from a legacy platform to a modern VoIP (Voice over Internet Protocol) system.
Introducing video communication, meetings, and mobile device integration.
In addition to building a platform for FBG's technology needs, this team has found and implemented one of the most game-changing tools yet: Telephone Time Sheets (TTS).
TTS allows employees to view and interact with the same level of information, allowing for clear communication with employees. It provides operations managers with clean, simple, and fast mobile access to actionable information. It gives employees three ways to record their hours accurately using telephone, cell phone, or mobile application. And, it does so in their native language.
With TTS, along with our improved internal systems, we can provide customers with detailed analytics related to FBG services, cost savings and performance metrics. It also allows FBG to create streamlined integration to customer systems on demand.
With the help of the IT Team, FBG continues to improve operations, communications and processes to deliver exceptional service to our customers as promised, when promised.
Telephone Time Sheets (TTS) allows for true, real-time visibility, management, and analytics of employee time and schedules.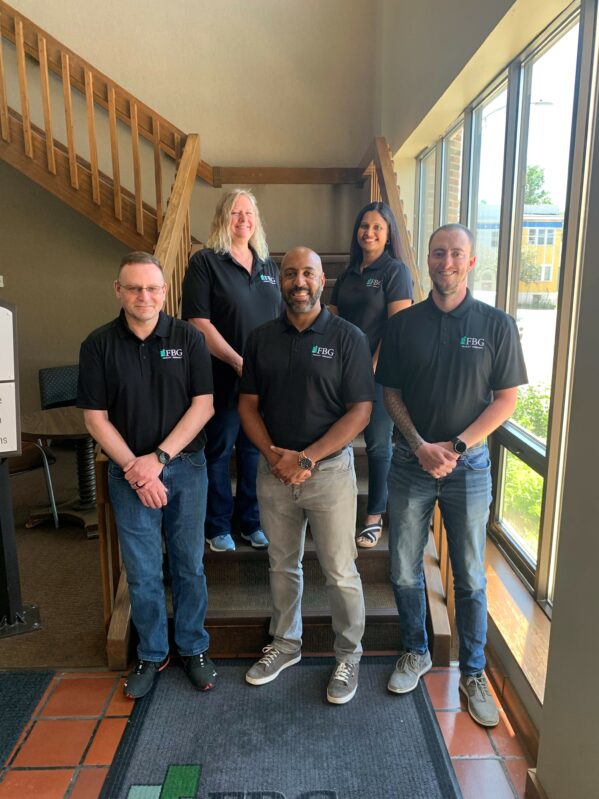 FBG IT Team, from left: Gareth Davies, Senior Systems Administrator; Kathy Carl, IT Systems Support Analyst; Brian Galloway, Vice President, Information Technology; Sri Kamma, Senior Application Developer; Nicholas Simmonds, Data Analyst.