Unplugged and Sustainable Service
FBG's Director of Process Improvement and Innovation, Guy Robarge, was recently interviewed by the industry publication Contracting Profits for its January/February 2018 issue. The article focused on the popularity of moving to battery-powered cleaning equipment.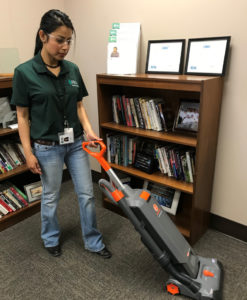 In 2017, FBG began testing battery-powered upright vacuums after many of our manufacturing partners began to offer them to us. Robarge attends the Building Service Contractor's Association International (BSCAI) annual convention every year where the latest products being offered by the world's leading manufacturers are often showcased. Because of Robarge's extensive knowledge, they often offer to let FBG beta test their newest products. In exchange, our teams provide feedback on equipment, including opportunities for improvement.
According to Robarge, cordless vacuums, "offer greater flexibility and eliminate one source of trips and falls. The equipment saves time because the cleaning specialists don't have to stop to plug and unplug cords. We also see improved efficiency because the specialists can keep moving in one direction. Additionally, it's very helpful not having to bend over constantly to plug and unplug. It's easier on our teams' backs, helping to prevent employee injuries and absences. Battery uprights are also kinder to furniture, walls and doors, since there are no cords to catch on or rub across them."
He continued to share the environmental aspect of these machines. "The vacuums earned the Carpet and Rug Institute (CRI) Seal of Approval, are HEPA-rated and use less energy. We're doing everything possible to be greener."
Robarge added, "As more customers ask us to provide day cleaning, it's vital that we be as unobtrusive as possible. These next–generation vacuums operate at levels as low as 63.7 decibels. Switching to a day cleaning program can substantially reduce energy consumption because janitors are cleaning during the day and not requiring lights or HVAC units to be left on well into the night. However, to clean around building occupants, janitors need quiet equipment and battery vacuums often meet that requirement."