When Lifting, It's All About the How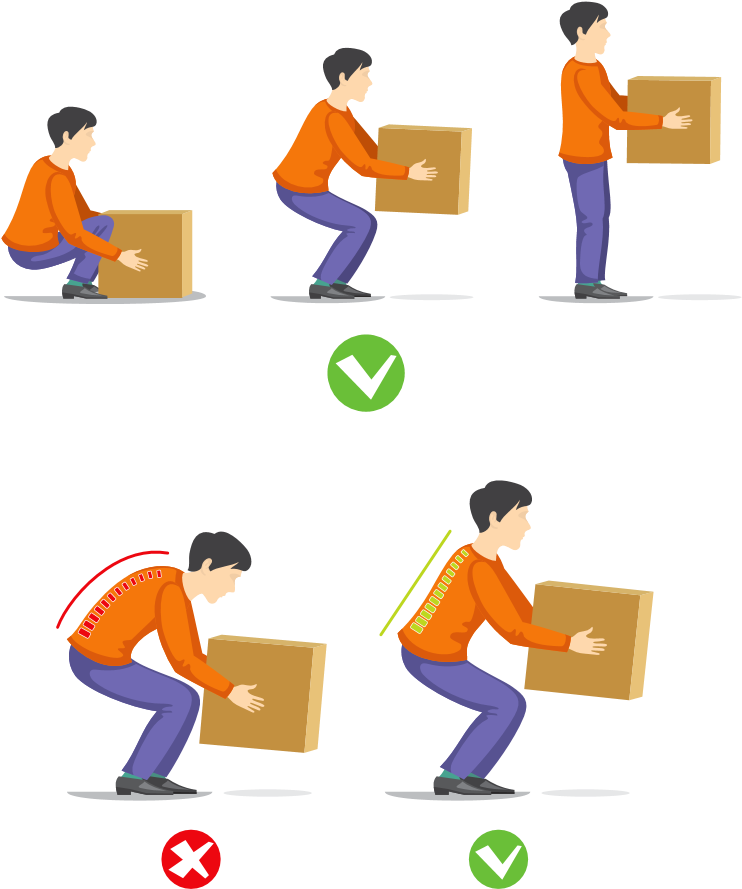 We have many eyes on safety at FBG, but we still experience the occasional incident. The primary cause of injury is lifting heavy loads of trash into the tops of dumpsters that were not designed with the safety of our cleaners in mind.  Our cleaning specialists should not be lifting more than 25 lbs. of trash at a time. Let's review proper lifting instructions.
RULE #1:  For any lift, your legs, not your back, should do the work.     
Correct lifting means the legs, not the back, do the work.
Lift with your knees bent and your back straight.
Determine whether you can safely lift a load alone. If not, get help, a dolly or another material-handling aid.
Carry the load over the straightest, flattest route; remove any obstructions.
Determine whether a hand truck or other lifting equipment can help with the lift.
RULE #2:  Get help if you need it!
Use two-person lifts for large or awkward loads.
Work with a person who is capable of helping.
Keeping knees bent and back straight, lift and raise the load together.
Move smoothly together as you carry,  keeping the load at the same level.
Unload at the same time, keeping knees bent.
Grip properly to lift objects with awkward shapes.
Squat next to the object, with your feet spread shoulder width apart.
Grip the object at the top outside corner and the bottom inside corner.
Lift properly and slowly, with knees bent and back straight.
Use a platform for handling loads in racks or other raised surfaces.
Stand on a sturdy platform, never on boxes or chairs.
Don't stretch or overreach when lifting.
Push up on the load to judge its weight and stability.
If possible, divide the load into smaller segments before lifting.
Slide the load as close to your body as possible.
Make sure you have good footing and a good grip.
Slide the load down, letting your arms and legs, not your back, do the work.
Lift only small objects to overhead storage areas.
Stand on a sturdy platform; don't stretch.
Be sure the objects you lift are as small a size as possible.
Bend your knees, lift the object, and then straighten up.
Lift the object to your waist and rest it on your hip or a low shelf.
If you ever question whether something is safe enough to lift yourself, please ask your supervisor or manager before proceeding. We want all our employees to go home in the same shape they were in when they came to work.
If you have safety concerns or ideas for improvement, contact your local manager or our Corporate Safety Director, Candace Fickenscher cfickenscher@fbgservices.com