FBG Celebrates President's Ruby Anniversary
This year, FBG President Terri Gogetap celebrates her 40th year—her ruby anniversary—with the company
As many of our faithful readers are aware, FBG President Terri Gogetap is the daughter of FBG Founder, Wayne Simmonds. Her father brought her into the company to learn the ins and outs of business at an early age, and now Terri has been an integral part of the FBG family for 40 years.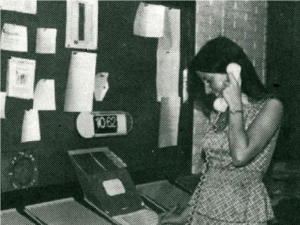 Terri has fond memories of her early days at FBG, where she started as an Evening Dispatcher and Receptionist for the Omaha office. "What I enjoyed most about my first position at FBG was the time I spent talking with people and getting to know them. I've always loved connecting with others and those positions gave me a great opportunity to do so with both employees and customers."
Terri's second position came in 1982, when FBG combined the Omaha District office with the Corporate office and moved to its current location in Downtown Omaha. "I became the Office Manager just as the roles we had and the services we offered were changing.  My boss at the time, Kathy Marxen, moved into a corporate position and then I found myself managing our administrative team," she reflected.
The business certainly was a family affair. In addition to her twin sister, Sherri Labedz, who worked for FBG affiliate, Guardsman, as a security guard in the Douglas County Civic Center, Terri's other sister, Sandi Bruno, eventually came to work at FBG as well.
Sandi and I worked in "Office Services" where we where responsible for the typical front of office duties – greeting visitors and answering the phones. Ensuring customers received what they needed was our passion. We managed employee time keeping and made sure employees were on the job. We were the centralized administrative support, including transcription of surveillance tapes for our security division.
In 1995, Wayne began thinking of succession. So, he approached Terri about becoming president of the company. "We were sitting the porch of my Mom and Dad's house (where I live to this day), and he asked me, 'What would you think about me preparing you to become president?' I remember my mom was standing at the screen door to see what I would say.  My first reaction was, 'WHAAAAT?'"
She continued, "After a deep breath I asked, 'Why me?' Dad said,
'You have the heart and the information. You don't have to know everything. You just have to surround yourself with great people that do.'" Sage advice for all of those in leadership.
When you consider the massive changes that have taken place in the business world over the last 40 years, Terri has navigated many of them. From the first archaic computerized systems to electric typewriters where carbon paper was used to make copies of letters, to today's time and resource saving technologies, Terri has been on a constant mission to streamline operations and to improve customers' experiences.
She stated, "I'm so proud of FBG, our employees and our ESOP. I'm proud of the fact that we've been growing for nearly 60 years, that we care about and listen to our customers and that we develop and provide solutions that take us to new places. The fire in our bellies to serve and do more continues."
Terri, on behalf of all of us at FBG, thank you for leading our company with the passion, compassion, wisdom and commitment that you do. We are all the better for it!