2020 Employee of the Year Jonathan Buchtela, Cedar Rapids District
It is a challenge we face every year, honoring one team member who consistently demonstrates FBG's values. It seemed a closer contest this time given that all our employees were asked to go above and beyond last year. Yet one person did stand out and it is with great pleasure that we present FBG's Employee of the Year for 2020, Site Supervisor Jonathan Buchtela of the Cedar Rapids District.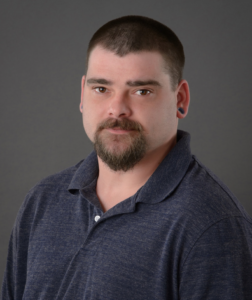 Upon selecting Jonathan as our Employee of the Year, President Terri Gogetap said that his character and performance truly impressed the selection team. "I appreciate the picture that Kay painted of the ownership this young man has taken in his work and the impact he has made at 27 years old. I look forward to meeting him one day."
Jonathan began with FBG in 2017 with no experience in our industry. He was first hired part-time to help cover a small location in Vinton, IA, while working other part-time jobs. When he asked about full-time opportunities, District Director Tom Montgomery was more than happy to add him to the team at Hawkeye Community College (HCC) in Waterloo. Soon, he was promoted to Team Leader after proving himself to Supervisor, Kelvin McGee.
Jonathan continued to learn and grow at HCC to the point that Market Manager Kay Volz and Operations Supervisor Mike Oliver offered him the Site Supervisor position at Wartburg College, a 7 day a week program in Waverly, just one year later.
In his hometown of Vinton, IA, he also oversees three additional accounts for us. Volz and Oliver appreciate that he can handle service or employee needs as they arise saving them valuable travel time. Speaking of travel time, Jonathan's daily commute back and forth between Vinton and Waverly is 116 miles. Now, that's dedication!
"On behalf of everyone at FBG, thank you Jonathan for showing us what excellence looks like."

Terri Gogetap, FBG President & CEO
According to Volz, "No matter what we've asked of Jonathan, his response is always, 'No problem!' I appreciate most that he is very loyal to FBG, our clients and is a great mentor to new employees. He is eager to learn and has been a consistent key team member we have grown to count on." 
During the Covid-19 shut-down of Wartburg College last Spring, Jonathan was the only employee cleaning the entire 200,000 square foot facility called the "W," a highly visible sports complex and special events venue for the community. During those trying times, he didn't miss a day and we never heard a complaint. 
It should be known that recruiting for FBG is all in the family for the Buchtela's. Jonathan's father, Duane, worked for us and referred us to Jonathan who, in turn, referred two other full-time employees from Vinton. Jonathan's younger brother, Curtis, works full-time for us at Hawkeye Community College in Waterloo. We look forward to receiving more referrals in the future.
Jonathan enjoys being the father of three young children who keep him very busy when he is not working. Montgomery stated, "for a young leader in our organization, I am excited for the continued growth potential Jonathan has at FBG."