Building Pride with ConAgra
ConAgra was founded in 1919 by Frank Little and Alva Kinney, who brought together four grain mills as Nebraska Consolidated Mills (NCM) in Grand Island, Nebraska. The headquarters were moved to Omaha in 1922.
In 1971, Nebraska Consolidated Mills changed its name to "ConAgra Foods", a hybrid of con (for consolidated) and agra (for agriculture). Today, Conagra produces an array of food products and owns iconic brands such as Orville Redenbacher popcorn, Birds Eye®, Healthy Choice® and Slim Jim®. 
To entice ConAgra Foods to build its headquarters in downtown Omaha in the late 1980s, the city removed 24 brick buildings from the Jobbers Canyon Historic District which were on the National Register of Historic Places. It was a very controversial city plan at the time. FBG was proud to be one of the first contractors to provide building services on the new campus.
In 2015, Conagra Brands relocated its headquarters to the historic Merchandise Market in Chicago. Moving the headquarters created an opportunity for Omaha to revitalize the 23-acre riverfront mixed- use hub. This, combined with a neighboring, but separate, riverfront project is downtown's most dramatic renovation since Jobbers Canyon fell and the Conagra campus rose.
Today, FBG is back providing services to this 550,000 square foot campus for Cushman & Wakefield. 
Senior Facilities Manager for Cushman & Wakefield, Robert McPeek, manages the campus and is happy that FBG has returned to care for their facilities, saying, "The complaint level has dropped since FBG took over the account. We were getting complaints from our clients daily, it's very rare now." Tenants include The Sherwood Foundation and the Greater Omaha Chamber.
"I don't know everyone on the night shift" he said, "but the Day Porters are phenomenal, whatever we ask them to do, they do with a smile. I'm really impressed with their performance. The support they get from Hector, Julio and Felisa makes a huge difference – that high level of attention has really meant a lot to us." 
FBG Operations Manager, Julio Jimenez, added, "Our great team, led by Program Manager Felisa Padron, work so well together. They are truly committed to providing an excellent service to the buildings and the people at ConAgra." 
FBG's VP for Strategic Accounts, Andy Petersen, added, "As part of the fabric of Omaha for over 60 years, taking care of this Omaha-grown Fortune 500 company is a natural fit for us. FBG is proud to be serving both Cushman & Wakefield and Conagra while supporting the revitalization of our riverfront.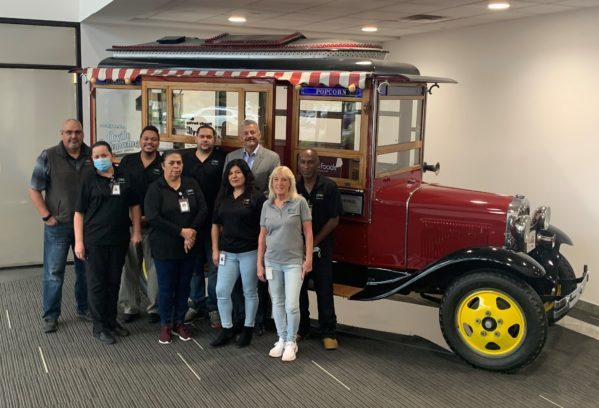 The FBG ConAgra team includes: 1st row – Judit Morales, Joannie Quinata, Felisa Padron and Maria Ortiz. 2nd Row – Julio Jimenez, Eric Mills, Sr., Jayson Carrero, Andy Petersen and Floyd Kern. ConAgra owns many brands, one is Orville Redenbacher popcorn, and this vehicle is their original Model AA popcorn truck. Only the original wooden wheels have been replaced!