Time to prepare for the 2018 flu season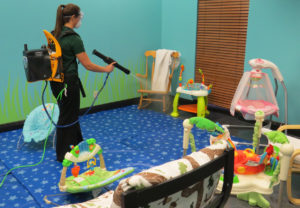 As we all know, the flu season will soon be here. And, in heavily populated places such as schools, our children share more than a classroom, kids share germs — and a lot of them.
In order to keep the kids in school, healthy, and in a clean environment, we offer an incredibly effective and environmentally friendly solution: FBG's Electrostatic Disinfecting Process.
Contact your local FBG office to schedule a treatment prior to this year's flu season.
fbgservices.com/contact/fbg-team
WHY ELECTROSTATIC DISINFECTION?
Effective disinfection reduces contamination
Ideal for disinfecting high-touch surfaces
No wiping, no cross-contamination — just spray and walk away
Ensures a more consistent and uniform disinfectant coating
Effective surface disinfection reduces infectious diseases
Kills 99.99% of germs on surfaces, including Norovirus, MRSA, and the cold & flu virus, and can reduce infectious diseases
No rinse required on food contact surfaces
Awarded the EPA's Design for the Environment certification (DfE)