Twin Cities Named District of the Year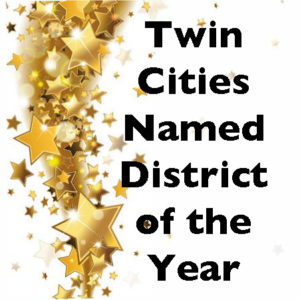 District Director Ryan McDougall was thrilled to accept the 2017 District of the Year award on behalf of his entire team at a recent management meeting in Omaha.
The Twin Cities District came in first in two of the four categories judged, which include Safety, Quality, Growth and Profitability. The district has shown they are providing a safe service within budget, while satisfying the needs of our valued customers throughout Minnesota and Wisconsin.
McDougall shared the news with the team when he returned to Minneapolis, and had this to say about the win: "Over the past four years, our team has been continually committed to serving our customers in a professional manner while training our employees to work safely and efficiently. We prove it is possible to be both safe and efficient while pursuing annual district goals. While adhering to these philosophies, we've all learned that we are only as good as our team."
"Each team member has played a very important role within the Twin Cities District's growth and success. This award is the culmination of dedication and perseverance, and it stands for what we feel best describes our district, 'Committed to Excellence!' Every employee owner should be proud of their accomplishments. While we are all excited with this acknowledgement, I know we are all hungry and focused to repeat this recognition next year as well!"
Congratulations to the entire team!